Independent review panel
In January 2023, an Independent Review Panel was appointed to review more than 100 nominations for membership of the design and advisory groups. The panel conducted interviews and submitted its recommendations to the Minister for the Public Service.
Panel members:
Tu Chapman (Chair)
Gary Williams
Rahui Papa
Amanda Hill.
Information [PDF, 213 KB] about the panel members.
Redress design group Co-chairs
In April 2023, the Co-chairs for the Design and Advisory Groups were appointed - Dr Annabel Ahuriri-Driscoll (Ngāti Porou, Ngāti Raukawa, Ngāti Kahungunu) and Ruth Jones QSM (Ngāti Porou, Rongowhakaata).
The Co-chairs were appointed independent of the public nominations process. As set out in the November 2022 Cabinet paper the Minister for the Public Service appointed the Co-chairs in consultation with the Minister for Māori Crown Relations and through the normal Cabinet Appointments and Honours Committee process.
The Co-chairs issued a statement about their appointments on Monday 17 April 2023.
Biographies
Co-chair Dr Annabel Ahuriri Driscoll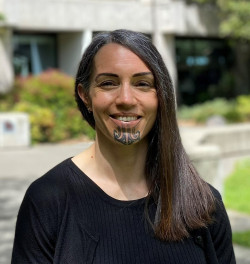 Dr Annabel Ahuriri-Driscoll is a Senior Lecturer in the School of Health Sciences at the University of Canterbury, with a focus on and background in Māori public health. Dr Ahuriri-Driscoll has a significant publication record and is highly regarded in public health. Dr Ahuriri-Driscoll is a survivor. 
Dr Ahuriri-Driscoll's leadership experience is based in the health and academic sectors, with board experience on advisory, health, and community trusts – including the Cancer Society, Health Research Council, Ethics Committee on Assisted Reproductive Technology, and the Council of Academic Public Health Institutions Australasia.
Co-chair Ruth Jones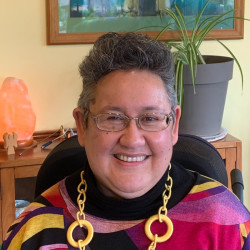 Ruth Jones is co-director of a disability consultancy and an experienced facilitator and disabled leader. Ruth and her husband are proud to lead Hei Whakapiki Mauri, a Whānau Ora entity supporting tangata and whānau whaikaha. Ruth has lived experience of closed adoption. She also has a strong track record of working in diverse communities. Her community leadership and service to disabled people was recognised by a Queens Service Medal in 2014.
Ms Jones has extensive government and community governance experience. She is currently a member of the Oranga Tamariki Ministerial Advisory Board and member of Te Tauraki the Iwi Partnership Board for the Ngai Tahu takiwai. Past appointments include the Enabling Good Lives Governance Group and National Taskforce for Action on Violence within Families.
Design and advisory group members
In May 2023 10 members to the Design Group and 16 members to the Advisory Group were appointed.
The Design Group members are:
Dr Filipo Katavake-McGrath
Māhera Maihi
Tyrone Marks
Te Pare Meihana
Paora Moyle [Resigned August 2023]
Bernie O'Donnell
Dr Michael Roguski
Tupua Urlich
Keith Wiffin
Dr Steve Winter.
The Advisory Group members are:
Kararaina Beckett
David Crichton
Dr Alison Green
Joanna Ilolahia
Toni Jarvis
Bianca Johanson
Denise Messiter
Heidi Nayak
Sevia Nua
Fleur Ramsay
Paora Sweeney
Frances Tagaloa
Jacinda Thompson
Jenni Tupu
Emma West
Matthew Whiting.